1st OBERON Annual Meeting
21 – 23 november 2021
It was a hybrid event that took place at Universidad de Zaragoza (Spain) and on Zoom.
OBERON European network: an initiative to advance training and research in visual optics and biomechanics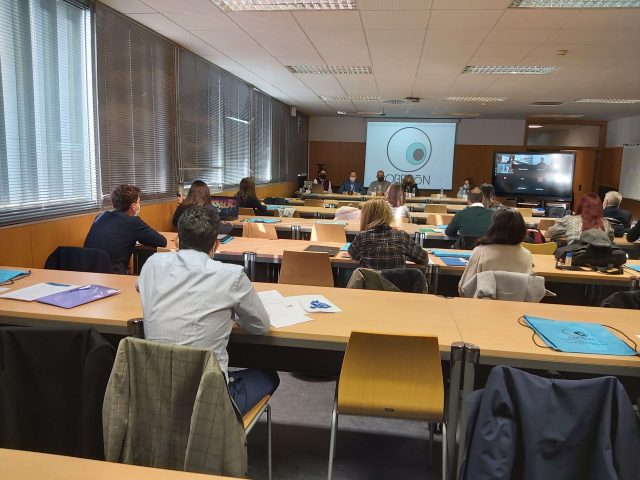 The Río Ebro Campus hosted the first annual meeting of theVisual Optics and Biomechanics Research Network, within the European OBERON project. A meeting organized by the I3A research group, Applied Mechanics and Bioengineering (AMB).
The objective of the OBERON project, an ITN (Innovative Training Networks), is to create a platform that allows the simulation of the human eye, taking into account the interactions of the mechanical properties of ocular tissues in the optical response of the eye. It has the participation of European research groups whose activity focuses on visual optics and biomechanics.This network has been joined by 15 students who are doing their doctoral thesis in different centers related to the project.
In addition to training researchers, OBERON works on the development of numerical tools to improve the precision of refractive and cataract surgeries, as well as the design of intraocular lenses and the surgeries themselves, while trying to continue advancing in the diagnosis of different pathologies such as presbyopia and keratoconus.
This ITN "Innovative Training Network" is a Marie Skłodowska-Curie action funded by the European Commission, within the H2020 research framework program. Its main objective is to train and support a new generation of scientists by providing them with opportunities for professional development and transversal skills.